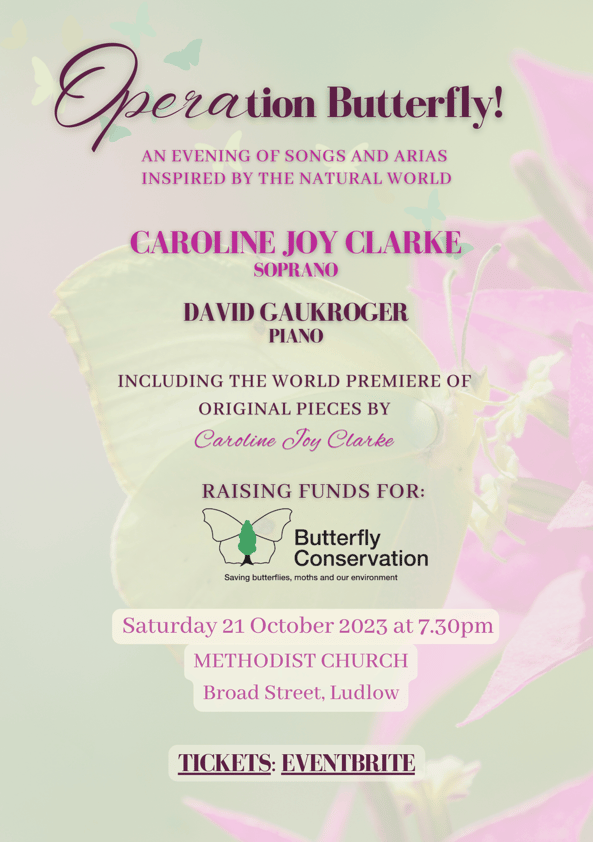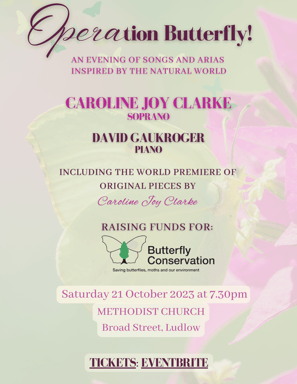 Saturday 21st October 2023
Ludlow Methodist Church at 7.30pm
Come and enjoy an evening of opera and song inspired by the natural world with me! I've called it "Operation Butterfly!" as I'll be raising funds for Butterfly Conservation and their vital work in preserving our butterflies and moths.
I have the marvellous David Gaukroger on the piano, and am looking forward to singing some of my own works as well as some classics such as (of course!) Puccini's aria for Madame Butterfly herself, Un bel dì.
Tickets are now on sale at EVENTBRITE, or you can email me (carosoprano@outlook.com) to reserve your tickets.
I've also set up a GoFundMe page as I'd love to be able to pay to have the concert filmed so I can use this as promotion and hopefully take the concert format to other venues and music festivals, raising money for a wildlife or local charity each time. Any donations would be gratefully received: https://www.gofundme.com/f/hrhpb8-operation-butterfly
I'd also love to be able to hire a string trio or quartet as I have written string parts for all my songs! But one step at a time, as they say.
I hope to see you there!